Hello my dear guests!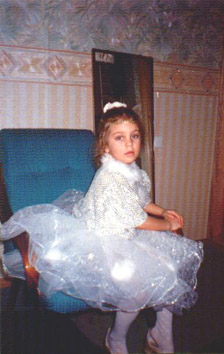 My name is Katyusha (Ekaterina) and I am from Moscow, Russia. Now I live in Mexico. My birthday is 14 of August, 1993. My name's day is 7 of December. This is my first homepage, it is very beautiful, my mom made it for me! I have many friends and I like to play with them. I study very well :) and I can speak and write in 3 languages: Russian, Spanish and English. Last year I got the diploma for the first place in studies. Also I love to travel and I have been in Spain, Sweden, Finland and Holland. This summer I have visited my native city Moscow and enjoyed my trip very much! Soon I will post my new pictures so check back often!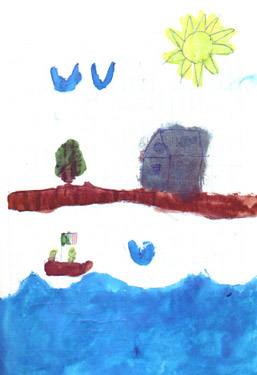 I love chocolates and sweets :) . I don't like when people get sick :( and I want to be a doctor to help them. I like music and especially ballet. My favorite is the "Swan Lake" by Tchaikovsky. Also I like to work at the computer :), to draw, to play Mega Blocks and Lego, to help my mom, to read books, to go to the theaters and to the movies. Here is my painting :) . If you want to know what is it - this is my house, the blue sea and me with my mom in the boat. The new game I got for Christmas is "Archeology for kids". I already made the Mayan mask and painted it by myself. I am planning also to make the gallery of all my work!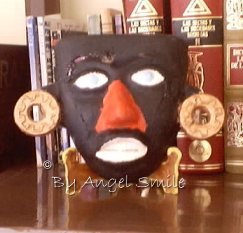 For your special day

   You are Blessed with Love from all of us
   Your prayers will all come true
   Your Names Day is so very Special
   For a Beautiful Little Girl Like You.
 
   Katya may the road always rise up to meet you
   May the sun always shine upon your face
   May the moon & stars always light your way
   May Gods Grace & Blessings always be with you.
   And no matter where you are
   Katya always may you feel
   The Love & Hugs from all of us
   For you sweetie not only on your Special Day
   But always.
 
Much Love and Hugs Freida Scott.

This beautiful poem was written by Freida for my Name Day. She lives in Australia and I hope some day to go there ;) .

| | |
| --- | --- |
| | Visit my Photo Album. |
| | Change AT for @ to send me email. |
| | Don't forget to sign my guestbook :). |
| | Return to my index page. |